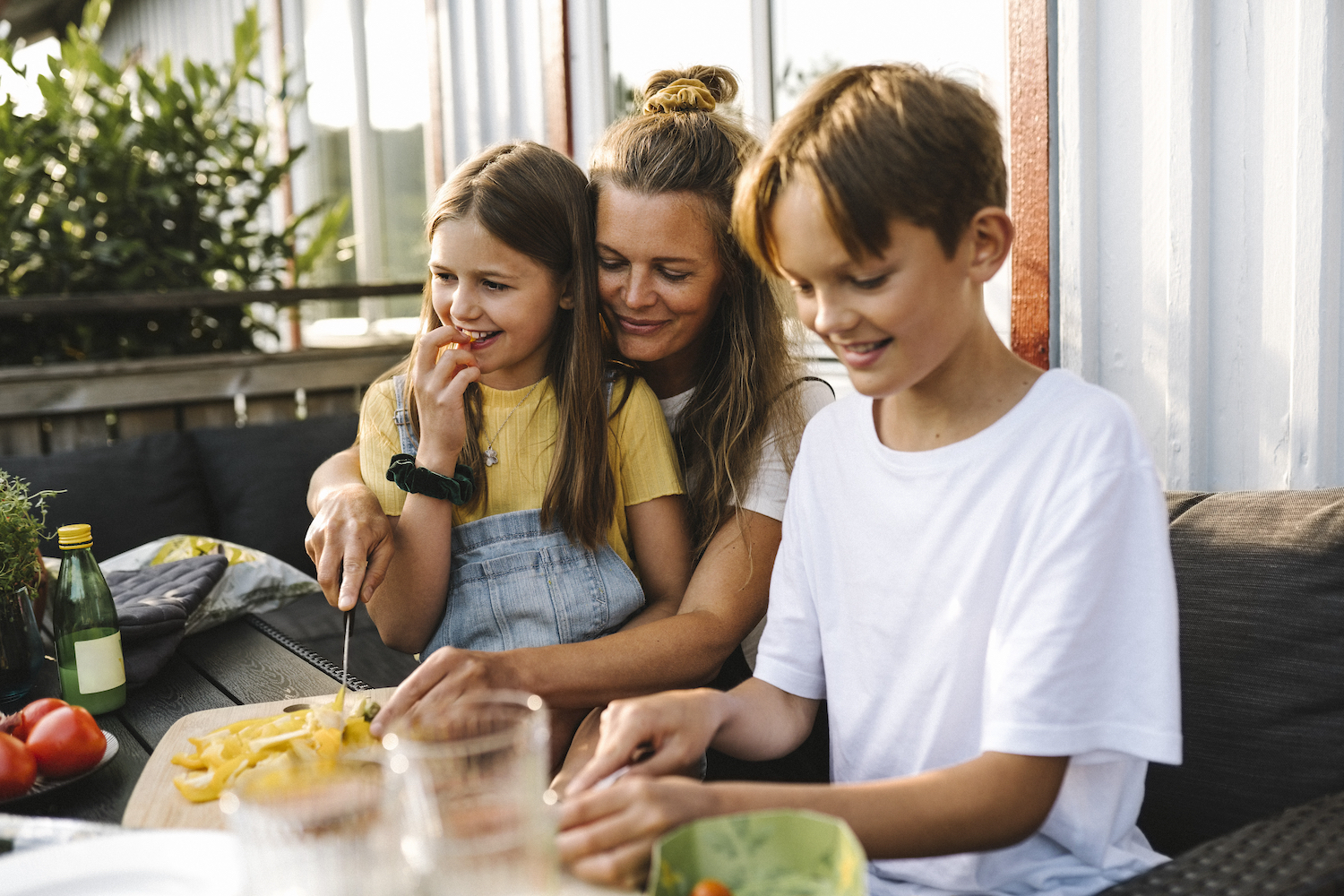 As a parent, you want to raise happy, healthy kids—and that starts by setting an example. Modeling healthy behaviors around food, physical activity and stress will set a strong foundation for your kids to develop their own healthy attitudes and behaviors. Beyond that, there are specific ways you can help foster healthy habits. Here are things you can do to encourage your children, no matter their age.
Toddler/pre-K
Food: Offer a variety of foods at regular meal and snack times. Give them control over how much or whether they eat the foods you offer.
Activity: Give them lots of opportunities to play and move their body. Do activities you enjoy and take them with you when you can (bike rides, short hikes).
Social/emotional: Help them identify feelings, and give them the language to talk about them. Talk through your own frustrations, modeling how you deal with setbacks.
General health/hygiene: Brush your child's teeth morning and night, and start flossing nightly, too. Schedule regular doctor and dentist appointments for them. And if you can, be the one to take them to those appointments.
Elementary school
Food: Get kids involved in picking out new-to-them vegetables and finding recipes they want to try. Offer nutritious after-school snacks, since many kids come home with a big appetite and may eat more for a snack than at dinner.
Physical activity: Encourage them to move their bodies by playing outdoors and finding new sports or activities they'd like to try.
Social/emotional: Continue to support their emotional development by actively listening to their problems and concerns. Encourage them to express themselves through art or music.
General health/hygiene: When they're old enough to tie their own shoes, they're probably old enough to brush their own teeth without your help. Make sure they're still brushing and flossing regularly.
Pre-teens and teens
Food: Teach them how to cook and have them start cooking and preparing some meals.
Physical activity/body image: Help them feel good in the body they have. Encourage them to get active in ways they enjoy.
Social/emotional: Check in with them about their mental health. Strive to be supportive and accepting, so they can continue to turn to you when they need help. Encourage journaling, mindfulness or art as ways to express their feelings.
General health/hygiene: Once your kids are teenagers, give them permission to see the doctor or dentist without you in the room. You could even try having them schedule their own dentist and doctor appointments.