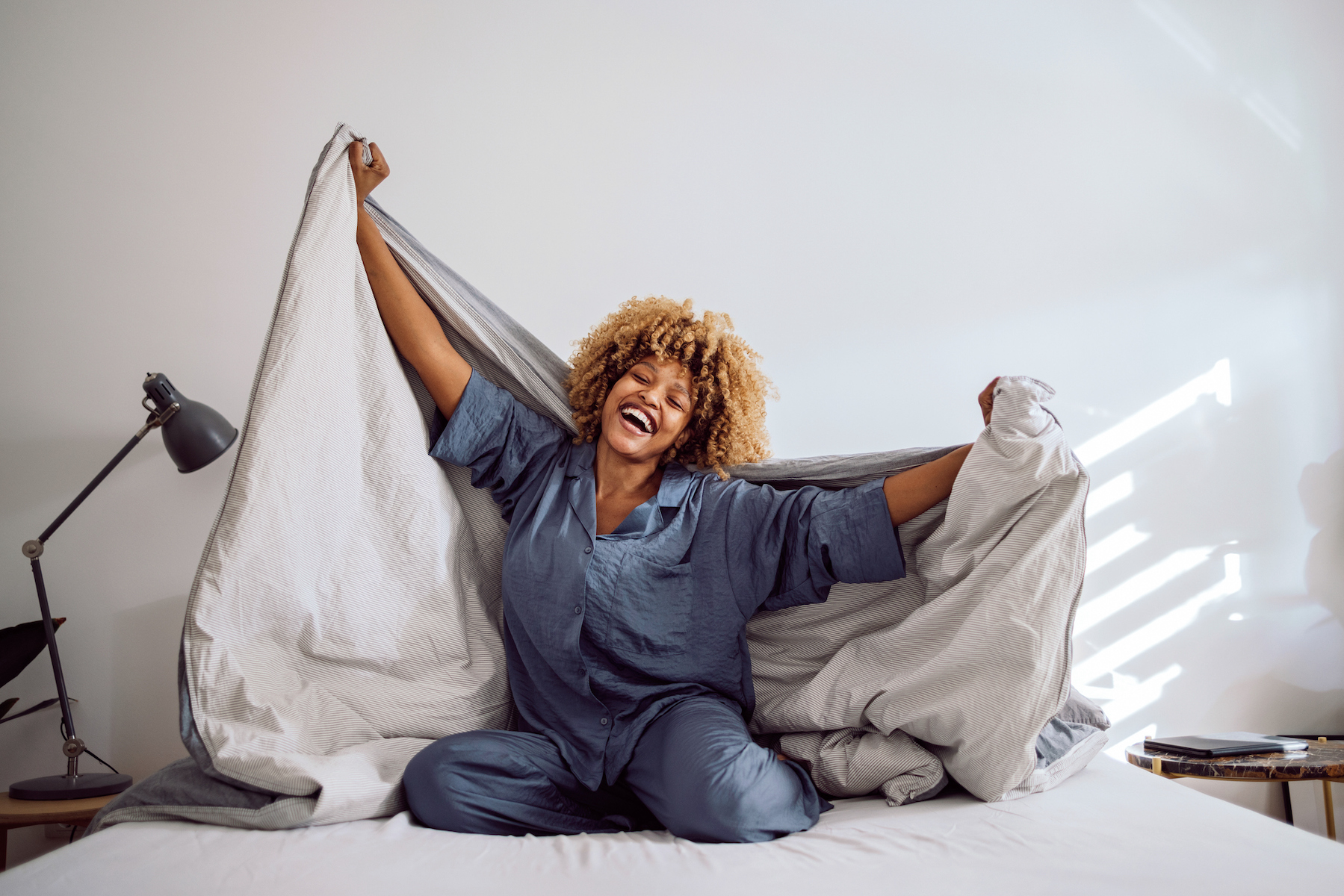 The way we begin our morning can shape the entire day. The first few waking hours can set the tone for our mental, emotional and physical state. The best way to influence the start of our day is by creating a healthy routine.
To help, here are some healthy suggestions to start your morning.
Have a gentle alarm or no alarm at all.  An abrupt alarm sound might be adding stress to the start of your day. Try choosing a more melodic alarm choice, such as nature sounds or an instrumental song. Or, if you naturally tend to wake up at the same time each day anyway, try waking up without an alarm. Sleep with the blinds or curtains somewhat open. This allows the sunlight to wake you.
Avoid immediate contact with your electronics. It's tempting to check your emails, texts, social media or the news after you wake up. But delaying access can prevent stress in the morning. Try doing something else first thing after you wake up, like taking a stroll, making breakfast or walking your dog if you have one.
Meditate or journal. Start the morning focused on yourself.  Meditation can help you calm your mind and set clear positive intentions for your day. Journaling for 10-15 minutes can also help you set some daily intentions. It can help you reflect on the past and build more self-awareness. Both meditation and journaling can lower stress and boost your self-compassion.
Drink water before your coffee.  Your body needs plenty of fluids after sleeping. Proper hydration helps with your digestion, muscle health and more. Starting the day with a tall glass of water will help you hydrate quickly. It can also improve your focus and mood for the day!
Eat a healthy breakfast. Your first meal of the day can help give you strength, focus and energy for the whole day. Avoid rushing this meal. You want to have a Balanced Meal of lean protein, whole grains, plenty of fiber and a little healthy fat. If limited on time, try making a smoothie with lots of fruits and veggies, or some no-sugar-added yogurt with fruit and granola.
Get your body moving. Boost your energy and your mood with some physical activity at the start of your day. You can stretch, take a walk or do a full workout.  Choose the best type of movement for your schedule and your body. You can also switch it up daily to keep things fresh and interesting.
Make a to-do list. Much of what causes us stress is thinking about what we need to complete each day. Try taking a few minutes to write down 3 to 5 tasks to prioritize. Making a list allows you to clearly focus on your goals. When you complete a task from your list, give yourself a sense of accomplishment by checking it off with pride!
Connect with friends and family. Try starting your day chatting with a friend or loved one with a phone call, video chat or in-person visit in the morning. Connecting with others can help boost your self-worth.
Quality sleep is important.
Along with your morning routine, improve your bedtime habits as well. A healthy amount of sleep gives you a rested body and mind. It is easier to keep a routine if you wake up feeling refreshed. 
Try these things 30-60 minutes before settling in for bedtime:
Prepare for the next day. Lay out clothes, do meal prep or write a to-do list.

Limit the use of your phone, TV, computer and other electronics. This gives your brain some time to unwind without looking at a screen.

Relax with meditation, stretching, journaling or calming music.

Adjust your room temperature to your personal preference.

Avoid eating or drinking.
Try out some of these morning routine suggestions. And feel free to think of your own! Once you have your routine, stick to it daily. You may be surprised how quickly it will start to become second nature.