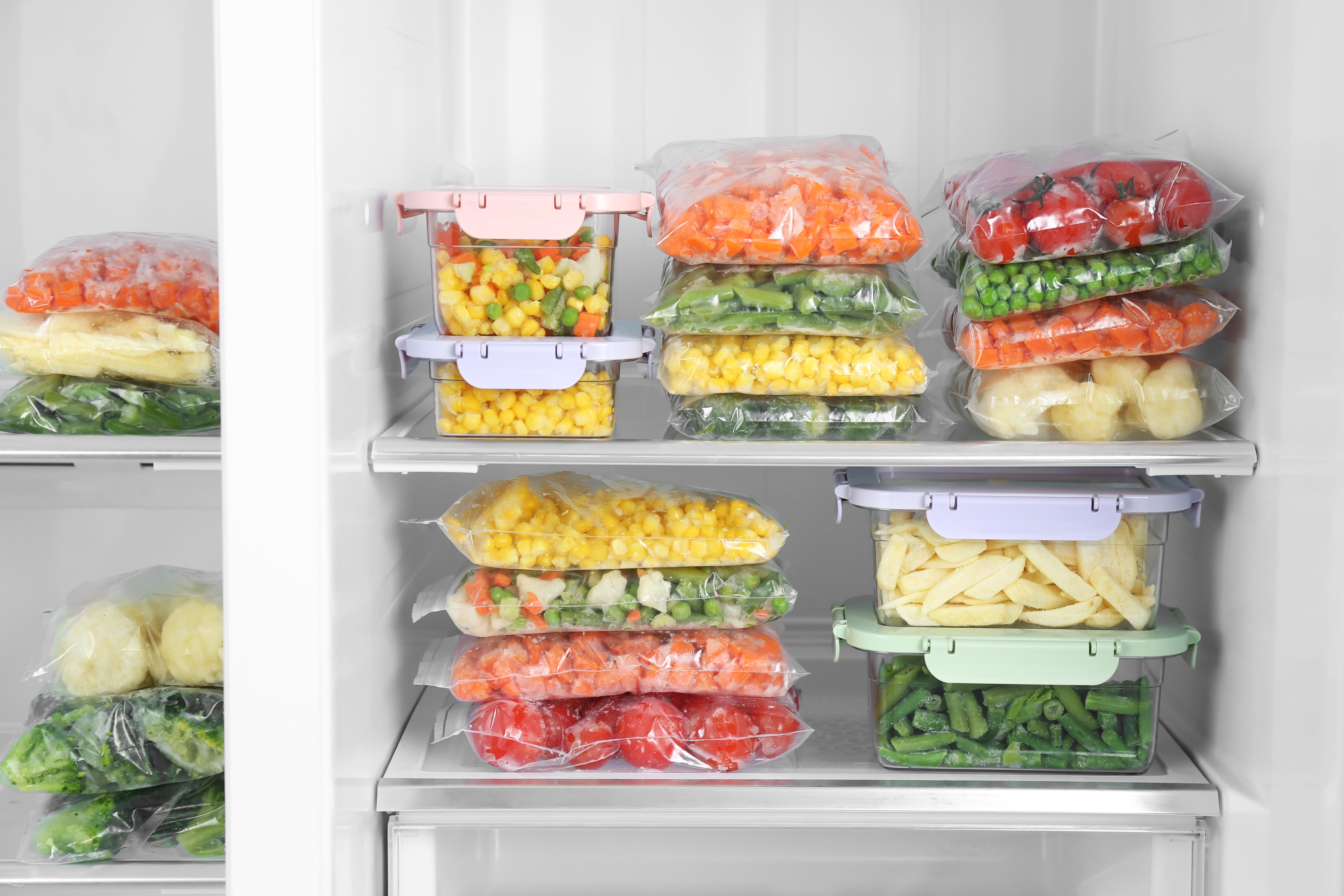 Veggies are an important part of balanced eating. For starters, they're a great source of fiber. Veggies also provide us with many vitamins, minerals, and antioxidants. All of these nutrients work together to keep us healthy.
Knowing how important veggies are, however, doesn't help get them into our meals and snacks. It can be hard to find the time to prepare veggies. And many people don't buy fresh veggies because they don't think they'll use them fast enough.
Luckily, it can be easy to include veggies without too much work or waste. Here are some convenient options you can try. The good news: They're just as good for you as veggies you work harder to prepare!
Clean and chop these fresh veggies ahead of time:
Bell pepper

Cucumber

Carrots

Broccoli

Cherry tomatoes

Leafy greens

Celery
Tips:
Look for in-season veggies. The flavor is best, and they're often more affordable.

Pre-cut veggies like broccoli or carrots and salad mixes can also save you time.
Keep these frozen veggies in the freezer to cook up quickly when needed:
Spinach

Cauliflower rice

Broccoli

Pepper and onions

Brussels sprouts
Tips:
Plain veggies shouldn't have any sodium added. Check the nutrition label to be sure you're buying the plain option.

Lean toward options that are not in a sauce.

Try steam-in-bag options for a quick and easy addition to any meal.
Stock your pantry with these canned veggies so you always have something on hand:
Green beans

Tomatoes

Artichoke hearts

Carrots
Tips:
Choose "Low Sodium," "Reduced Sodium," or "No Salt Added" veggies.

Rinse canned veggies with water to help remove sodium.
Here are two veggie-packed meals you can create using easy veggies you may already have at home in your pantry, fridge, and freezer:
Salsa Chicken Burrito Bowl
Makes 2 servings
Prep: 5 min Cook: 2 min
Ingredients
⅔ cup canned green beans, no salt added
⅔ cup canned corn, no salt added
1 15-oz can black beans,
low sodium 90-second quinoa pouch, no sauce or seasoning
1 cup salsa 6-8 oz rotisserie chicken, leftover or store-bought, cut up into bite-size pieces, skin and bone removed
Preparation
Rinse green beans, corn, and black beans 2-3 times with tap water. Drain after each rinse. Measure ⅔ cup of corn, saving the rest for another use. Measure ⅔ cup of black beans, saving the rest for another use. Pour the measured corn, beans, and green beans into a medium mixing bowl. Prepare quinoa according to package instructions. Add to the mixing bowl. Add salsa and chicken. Mix well. Split between two bowls and serve.
Nutrition Information
Serving size: ½ recipe
Per serving Calories: 480; Total fat: 11 g; Saturated fat: 3 g; Sodium: 488 mg; Cholesterol: 55 mg; Total carbs: 62 g; Fiber: 14 g; Sugars: 15 g; Protein: 34 g; Potassium: 276 mg
Shrimp Stir-Fry
Makes 2 servings
Prep: 5 min Cook: 12 min
Ingredients
8-10 oz precooked frozen shrimp, deveined and tails removed
2 cups mixed vegetables, non-starchy
1 cup snap peas
1 tsp sesame oil
90-second brown rice pouch
2 Tbsp low-sodium soy sauce
Freshly ground pepper, to taste
1 tsp garlic powder
Preparation
Defrost shrimp according to package instructions. Place mixed vegetables and snap peas in a microwave-safe bowl. Heat in microwave according to package instructions. Drain excess water. Place a medium-size skillet over medium-high heat. Add sesame oil and spread evenly in the pan with the back of a spoon. Add defrosted shrimp and cook for about 2 minutes. Add the cooked vegetables and snap peas and continue to stir-fry for another 3 minutes, or until heated through. Prepare brown rice according to package instructions. Place shrimp, veggies, snap peas, and brown rice in a medium bowl. Add soy sauce, pepper, and garlic powder and mix well. Split between two bowls and serve.
Nutrition Information
Serving size: ½ recipe
Per serving
Calories: 331; Total fat: 7 g; Saturated fat: 1 g; Sodium: 540 mg; Cholesterol: 221 mg; Total carbs: 34 g; Fiber: 5 g; Sugars: 6 g; Protein: 29 g; Potassium: 299 mg
CLC15609.A