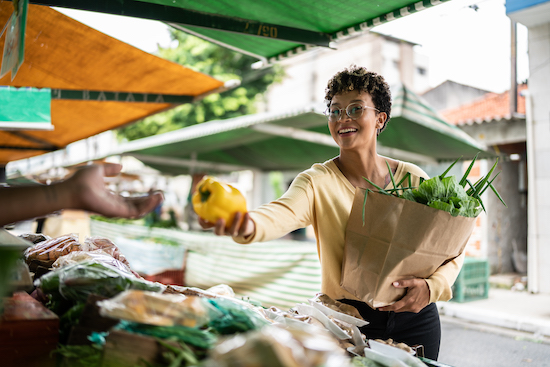 It can be more challenging to shop for healthy foods with limited options. Every neighborhood has different access when it comes to shopping for groceries. Here are ways to shop for healthy options using what is in your area. 
Farmers' Markets and Farm Stands
The number of community farmers' markets and farm stands is growing. These markets include local items like fruits, vegetables, eggs and meats. Produce that is in season can be more affordable and flavorful. Shopping at farmers' markets can add more fresh fruits and vegetables to your meals.
There is support for getting food for you and your family if needed. The USDA Supplemental Nutrition Assistance Program (SNAP) can provide help. A lot of farmers' markets accept SNAP benefits. Many will double your SNAP EBT dollars for fruits and vegetables. You can find more information about these programs below.
USDA Supplemental Nutrition Assistance Program (SNAP)
Farmers' Markets Accepting SNAP Benefits
Neighborhood Markets
Corner stores and local markets can have limited options. Finding healthier foods is possible. Shop for canned fruits and vegetables packed in water. Peanut butter, dried fruits, nuts and seeds are healthy snack options. Look for dairy foods like low-fat milk, string cheese or Greek yogurt cups.
Dollar Stores
Dollar stores offer plenty of healthy options at an affordable price. Shop for pantry staples with a long shelf life. Look for items like brown rice, pasta, oats, canned fish and whole wheat bread. You can find frozen fruits and vegetables, fresh eggs and low-fat milk and yogurt. Look for healthy snacks like nuts and seeds, whole grain crackers and ready-to-eat popcorn.
Supermarkets
Larger grocery stores offer a wide variety of food choices. These stores may be farther away or less accessible in some areas. If you make a trip to a supermarket less often, make the most of it. Shop for fruits and vegetables that have a longer shelf life. Vegetable options include onions, potatoes, cabbage and carrots. Longer-lasting fruits include apples, pears and citrus fruits. If your budget allows, buy lean meats in family-size packs. Freeze extras to use later.
Extra tips:
Freeze what you can. Store items like fruits, vegetables, bread and leftovers in the freezer. This extends their shelf life and prevents food waste. Date the items when you store them. This keeps track of when to use them by.

Buy once, use twice. Cook staple items like brown rice, lentils or beans ahead of time. Use them in different ways during the week. This cuts back on prep and cooking time. If you need meal inspiration, use our recipe library for ideas.
Fast food restaurants offer healthier options. Look for grilled sandwiches, meal-sized salads and vegetable side dishes. Go for sugar-free drinks like unsweetened iced tea, water or diet soda. We also share some healthier restaurant suggestions in this article.