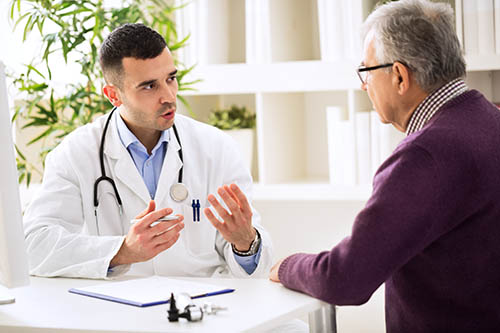 There are many ways to manage heart failure. Meds and lifestyle changes are two options. More complex treatments may also be part of your care. Choosing the right treatment depends in part on where you are in your journey with heart failure.
The American College of Cardiology (ACC) has a system that helps doctors figure out where their patients are in their journey. This helps them find the right course of treatment.
As your condition progresses, you may find yourself ready to consider different options. This can be tough to do. Your doctor will help you. But it is important to lean on your loved ones as well.


Know Your Treatment Options
Discuss all of your options with your care team.


Procedures, surgeries, and medical devices
In some cases, your doctor will suggest a procedure to treat the cause of your heart failure.
Heart catheterization: This is a tiny wire and balloon. It is pushed through an unhealthy artery and is removed once the artery has opened up. A stent may then be placed. It is left there to keep the vessel open.
Coronary artery bypass graft: This surgery involves using arteries and/or veins from other parts of the body. The arteries and/or veins help bypass or redirect blood flow.
Valve surgery: Heart valves can be repaired or replaced if they have become weak. Valves can also need surgery if they have become too stiff to open properly.
Resynchronization therapy: This device sends signals to the heart. This helps the heart beat in a more coordinated way.
Implantable cardioverter defibrillator: This device keeps track of your heart rate. It gives an electric shock if the rate is too fast. The device resets the rhythm to prevent sudden cardiac death.
Left ventricular assist device (LVAD): This device acts like a mechanical heart pump. It moves blood through the body. Doctors use this to help heart transplant candidates as they wait. It can be an alternative to transplant as well.
Heart transplant: This may be an option if other treatments do not help. This is when your heart is replaced with a healthier heart from a donor.
Palliative/supportive care
In some cases, you may need extra support or care. This includes services like home health care or a skilled nursing facility. This also includes palliative or supportive care.
The goal of palliative care is to improve your quality of life. This is done by reducing symptoms and other stressors. Many confuse palliative care with "hospice care." But they are NOT the same. Palliative care does not mean your treatment(s) have to stop.
What does palliative care include? This type of care can help reduce symptoms and pain that you may be having. It can ease any side effects you may be experiencing. Palliative care includes therapy and medication management. It offers support for you and your loved ones. If you are having trouble making decisions, palliative care can help.
Remember, your needs will depend on the stage of your condition. Together, you and your team can figure out the right course of treatment for you.
CLC14951.B