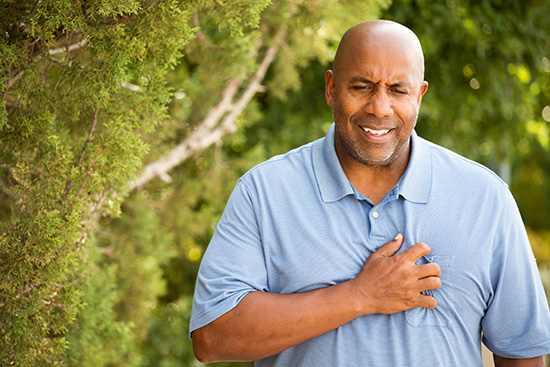 If you're at risk of heart failure, it's important to know the symptoms. Knowing the signs of heart failure — what it looks and feels like — lets you know if you need to call your doctor.
The Heart Failure Society of America created an easy tool to help you identify the symptoms. Just remember the acronym "FACES."
F = Fatigue. When the heart can't pump enough blood to meet the body's needs, you may feel general tiredness or fatigue.
A = Activity limits. People with heart failure are often unable to do their normal activities. They become tired easily and short of breath.
C = Congestion. Fluid buildup in the lungs can cause coughing and wheezing. You may also experience trouble breathing.
E = Edema or swelling. When the heart doesn't have enough power, fluid can collect in the lower part of the body. This typically happens in the ankles, legs, thighs, and abdomen. Excess fluid can also cause rapid weight gain.
S = Shortness of breath. Fluid in the lungs makes it hard for people with heart failure to get fresh oxygen. You may also find it hard to breathe when lying down. This is because when we lie down, any extra fluid in our legs or abdomen travels back up into the heart and lungs. This is why some people need more and more pillows to sleep on.
Other symptoms can occur with heart failure, including:
Feeling faint or light-headed

Lack of appetite

Early satiety or feeling full early

Shortness of breath when leaning over (also called bendopnea)
A rapid or irregular heartbeat

Needing more than two pillows to sleep (need to be propped up)

Waking up suddenly at night with trouble breathing

Coughing that produces mucus or pink, blood-tinged sputum
If you have any of these symptoms, work with your doctor or healthcare team to find a treatment that works for you. Heart failure doesn't have to run your life!
CLC14588.B