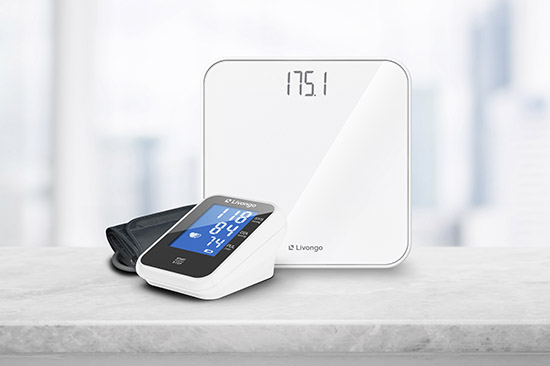 1. Monitoring
Weight: Step on the Livongo scale every day to stay on top of any changes.
Blood pressure: Use the Livongo blood pressure monitor to check your blood pressure every day (unless your doctor has told you otherwise).
Symptoms: Pay close attention to how you're feeling and keep the symptoms of heart failure top of mind. Just remember "FACES," which stands for Fatigue, Activity limits, Congestion, Edema (or swelling), and Shortness of breath. There are other symptoms, too.
2. Medications
Common heart failure meds: There are different types of heart failure meds and each has a specific job. You may need a few meds to treat your condition and help your heart.
Keep track of your meds: Figuring out the right mix of meds can be tricky. Keep track of which meds you're on, the dose, and any symptoms you're having with this medicine tracker.
3. Movement
Move every day: Aim for at least 20-30 minutes of movement every day.
Find the best exercises for your heart: Figure out which exercises you enjoy and are safe for you and your heart.
Stay active without exercising: 10 Easy Ways to Get Your Heart Pumping
4. Meals
Keep your mealtimes consistent: Try to eat at the same time every day.
Log meals and snacks: Use the Livongo food log to keep track of what you eat and drink throughout the day.
Make heart-healthy food choices: Limit your salt and saturated fat intake. Fill up on produce, whole grains, and lean proteins.
5. Mindfulness
Lean on loved ones: Talk with them about how you're feeling and allow them to support you through tough times.
Schedule social time: Make time to connect with friends and family. Even a phone call works if you're busy or not feeling well.
Rest between activities: If you need a break between activities, take them. Stay in tune with your body as you go through your day.
Relieve some stress: There are many ways to lower your stress levels. Try different ways of breathing or simply listen to soothing sounds.
CLC14630.B