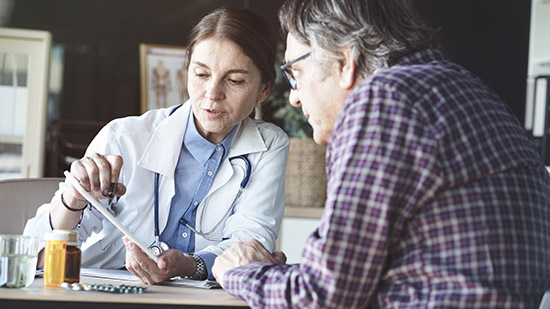 When it comes to treating heart failure, the good news is there are options available. Medication, a low-salt diet, exercise, and cardiac rehab are just a few. It usually takes a combination of treatments to get it right. You and your doctor will work together to create a treatment plan just for you.
To successfully manage your condition, it's important to follow your plan. Be an active member of your healthcare team. And involve your family and loved ones so they can help support you along the way.
Your plan may include a mix of these treatment options:
Lifestyle changes

Medications

Cardiac rehabilitation

Devices and surgical procedures

Professional support services and care

Lifestyle Changes
Here are six steps you can take in your day-to-day to help manage how you feel.
Medications
Medications may be an important part of your treatment plan. There are a variety of different types and each has a specific job. Because of this, you may need a few meds to help your heart get stronger. You may also need meds to help manage some of the symptoms you're feeling.
Knowing which meds are for your heart failure and taking them as prescribed can help you feel better. Keep track of which meds you're on, the dose, and the side effects you're having.
Cardiac Rehabilitation
Cardiac rehab is a program that helps your heart's overall health. In rehab, you'll learn about specific exercises to make your heart stronger. And you'll also get heart-healthy ways to live and eat. This includes lowering your stress levels.
You can take classes in person or online. Ask your doctor if you can sign up. Cardiac rehab is covered by Medicare, Medicaid, and most insurers for people with heart failure.
Procedures
If your heart failure progresses, there are a few procedures available. Depending on your situation, this may be the right route for you. Discuss all of your options with your doctor and care team.
Some of the surgical procedures include:
Heart catheterization: This is a tiny wire and balloon that is pushed through an unhealthy artery. It's removed once the artery has opened up. A stent may be placed and left there to keep the vessel open.
Implantable cardioverter defibrillator: This device keeps track of your heart rate. It gives an electric shock if your heart rate is too fast. This helps reset the rhythm.
Resynchronization therapy: This device sends signals to the heart, helping it beat in a more coordinated way.
Left ventricular assist device (LVAD): You may benefit from this device if your heart failure is more advanced. It acts like a mechanical heart pump, moving blood through the body.
Heart transplant: If the other treatment options aren't helping, a heart transplant may be an option for you. This is when your heart is replaced with a healthier heart from a donor.
Professional Support Services and Care
This includes different services and care options like home health care, group therapy, or a skilled nursing facility. Professional support also includes durable medical equipment (DME) and palliative/supportive care. Your needs will depend on the stage of your condition. Your healthcare team can help you figure out which services are right for you.
Following your treatment plan ensures you're doing everything within your power to control your condition. Being an active member of your care team allows you to create a plan that works for you. Heart failure doesn't have to run your life.
CLC14640.B