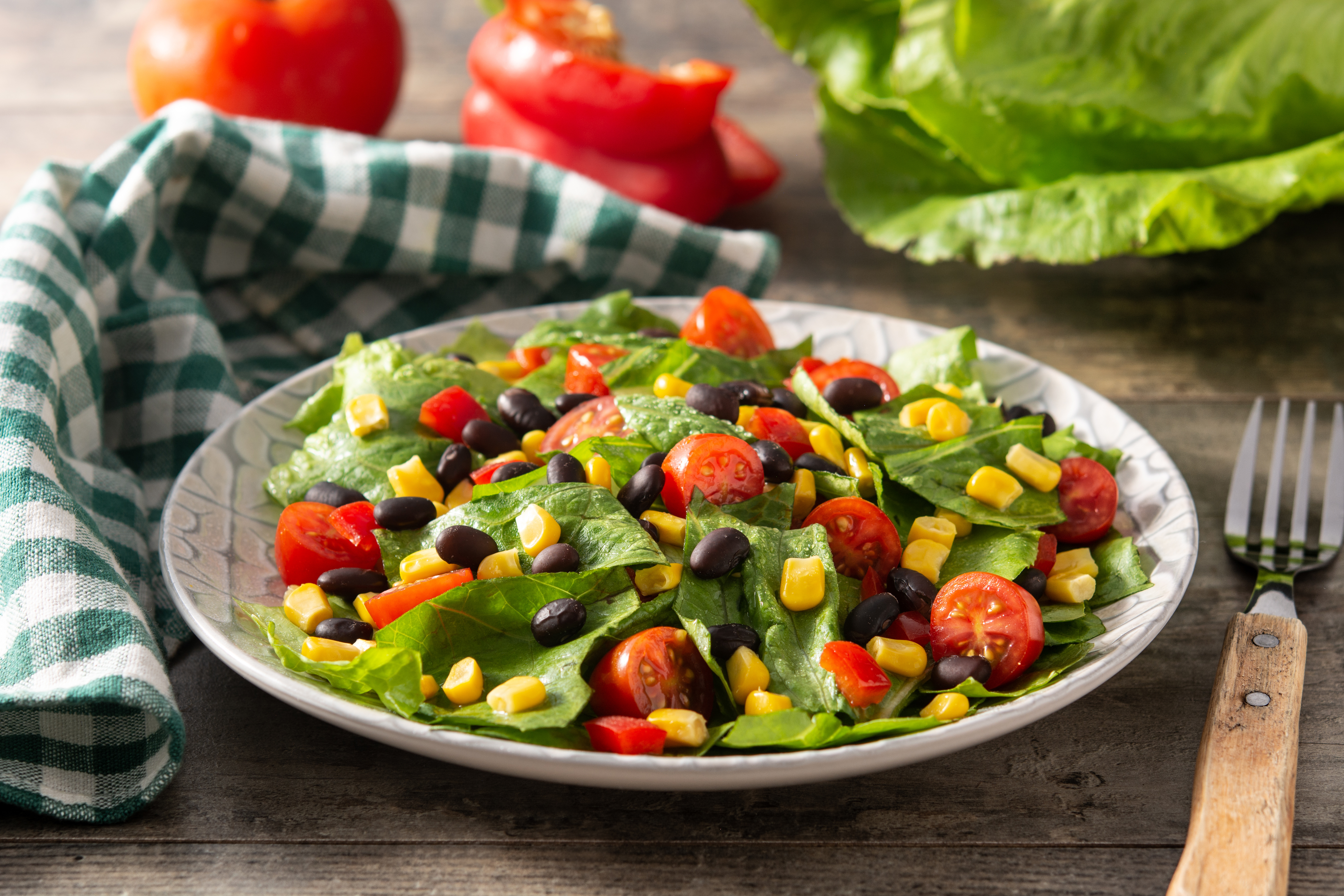 Kidney-Friendly Lunch Recipes
Grilled Chicken Sandwich
Makes 2 servings
Prep: 5 min Cook: 20 min
Ingredients
8 oz boneless, skinless chicken breasts
A pinch of salt
4 slices whole wheat bread
2 Tbsp mayonnaise
2 slices tomato
2 lettuce leaves
Preparation
Season chicken with salt and pepper. Grill chicken, 5-10 minutes on each side, until done. Slice chicken into thin slices. Leftover chicken works great here, too!
Build each sandwich using half of the cooked chicken, 2 slices of bread, 1 tablespoon mayo, 1 tomato slice, and 1 lettuce leaf.
Nutrition Information
Serving size: 1 sandwich
Per serving
Calories: 480; Total fat: 18 g; Saturated fat: 4 g; Sodium: 583 mg; Cholesterol: 102 mg; Total carbs: 33 g; Fiber: 5 g; Sugars: 4 g; Protein: 45 g; Potassium: 582 mg
Southwest Corn & Black Bean Salad
Makes 6 servings
Prep: 10 min Cook: 0 min
Ingredients
3 Tbsp olive oil
2 Tbsp white vinegar
1 lime, juiced
1 tsp chili powder
½ tsp cumin
½ tsp pepper
1 dash salt
2 heads romaine lettuce, chopped
2 cups frozen corn kernels, thawed
1 can low-sodium black beans, rinsed
1 cup grape tomatoes, halved
½ red onion, chopped
½ cup fresh cilantro, chopped
Preparation
Whisk oil, vinegar, lime juice, spices, salt, and pepper together.
In a large bowl, combine remaining ingredients. Pour dressing over vegetables and toss to coat.
Nutrition Information
Serving size: 2 cups
Per serving
Calories: 255; Total fat: 8 g; Saturated fat: 1 g; Sodium: 59 mg; Cholesterol: 0 mg; Total carbs: 39 g; Fiber: 14 g; Sugars: 6 g; Protein: 10 g; Potassium: 1,039 mg*
*Potassium may need to be limited based on your lab values. Substitute bell pepper for tomato to lower potassium.
Pita Zucchini Pizza
Makes 1 serving
Prep: 5 min Cook: 10 min
Ingredients
1 6-inch whole wheat pita bread
1 tsp olive oil
1 clove garlic, chopped
⅓ cup mozzarella cheese, shredded
¼ zucchini, thinly sliced
8 slices red onion, thinly sliced
Dash dried oregano (optional)
Dash crushed red pepper flakes (optional)
Preparation
Preheat the oven to high broil. Brush one side of pita bread with olive oil. Sprinkle it with garlic. Place pita on a baking sheet and broil for 2-3 minutes, until you can smell the garlic.
Remove "pizza" from the oven. Top with mozzarella, zucchini, and red onion. Return pizza to the oven and continue to broil 3-4 minutes, until cheese is melted and veggies are slightly charred.
Sprinkle with oregano and red pepper flakes if desired.
Nutrition Information
Serving size: 1 pizza
Per serving
Calories: 324; Total fat: 15 g; Saturated fat: 7 g; Sodium: 507 mg; Cholesterol: 33 mg; Total carbs: 36 g; Fiber: 4 g; Sugars: 3 g; Protein: 15 g; Potassium: 267 mg
CLC14444.A