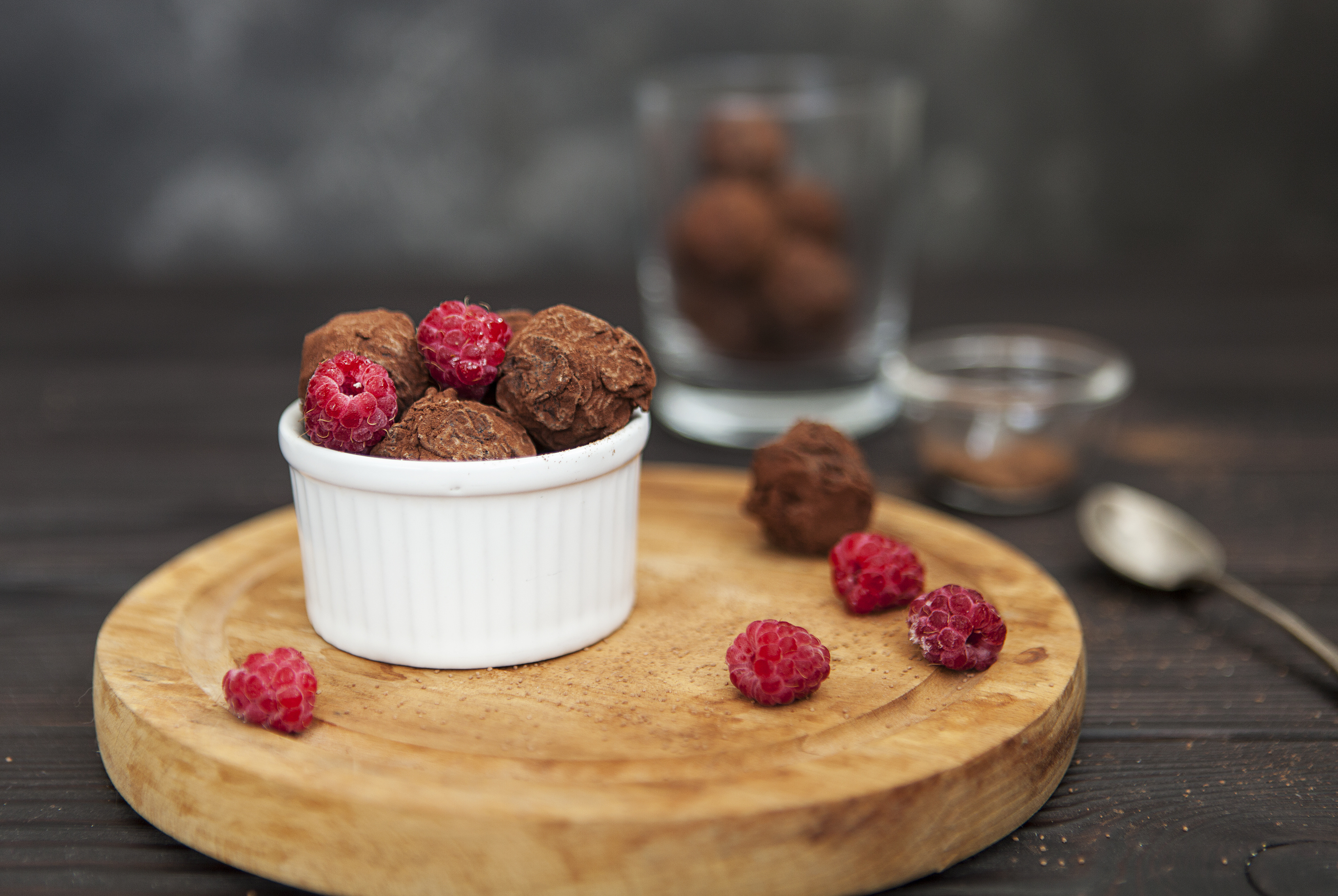 If you're in the mood for a sweet treat, dark chocolate can hit the spot. It is also a source of heart-healthy compounds and has less unwanted sugar and calories than milk chocolate.
When it comes to enjoying chocolate, it can be easy to overdo it. The solution? These portion-controlled chocolate desserts. This way you can satisfy cravings and still reach your health goals. Try one of these four delicious options:
Dark Chocolate Bark With Almonds & Dried Cherries
Makes 24 servings
Prep: 10 min Cook: 10 min
Ingredients
¾ cup almonds, roughly chopped

¾ cup dried cherries

20 oz bittersweet chocolate, chopped, divided

1½ tsp coarse sea salt
Preparation
Place a sheet of parchment paper on a baking sheet. Spray with cooking spray and set aside. Combine almonds and cherries in a bowl and set half aside.
Add chocolate to a medium glass bowl. Fill a medium saucepan with 3 inches of water and bring to a boil. Place the glass bowl filled with the chocolate on top of the saucepan (you are essentially creating a double boiler).
Stir chocolate with a rubber spatula as it melts. You are looking for it to be smooth and pourable. Once smooth, add half of the almond/cherry mixture to the chocolate, and then pour melted chocolate onto the greased baking sheet and spread it so it's about ¼-inch thick. Top with remaining almond/cherry mixture and sprinkle with coarse sea salt. Place the baking sheet in the refrigerator for 1 hour. Break up into pieces. Freeze any extra bark so you can enjoy it later.
Nutrition Information
Serving size: 1 2x2-inch piece
Per serving
Calories: 125; Total fat: 8 g; Saturated fat: 5 g; Sodium: 41 mg; Cholesterol: 1 mg; Total carbs: 16 g; Fiber: 2 g; Sugars: 13 g; Protein: 2 g; Potassium: 140 mg
Dark Chocolate Raspberry Truffles
Makes 16 servings
Prep: 2 hours and 15 min (includes chill time) Cook: 0 min
Ingredients
1½ cup unsweetened cocoa powder

½ cup unsweetened applesauce

3 Tbsp maple syrup

16 raspberries

Additional cocoa powder (optional)
Preparation
Combine cocoa, applesauce, and maple syrup in a medium bowl. Stir until smooth. Cover and place in the refrigerator for at least 2 hours. Once fully chilled, divide the chocolate mixture into 16 pieces, then roll each into a ball. Using the palm of your hand, flatten one of the balls and place a raspberry onto the center.
Fold chocolate up around the berry and roll it into a ball again. Repeat with remaining chocolate balls and berries. Place back in the refrigerator, keeping chilled until ready to serve. Dust truffles with cocoa powder before serving, if desired.
Nutrition Information
Serving size: 1 truffle
Per serving
Calories: 41; Total fat: 1 g; Saturated fat: 1 g; Sodium: 2 mg; Cholesterol: 0 mg; Total carbs: 10 g; Fiber: 4 g; Sugars: 4 g; Protein: 2 g; Potassium: 165 mg
Chocolate Yogurt Mousse & Berries
Makes 1 serving
Prep: 5 min Cook: 0 min
Ingredients
1 (5 oz) container low-fat plain Greek yogurt

2 tsp unsweetened cocoa powder

2 tsp honey

¼ cup berries
Preparation
Combine yogurt, cocoa powder, and honey and stir until smooth. Serve with berries.
Nutrition Information
Per serving
Calories: 158; Total fat: 0.9 g; Saturated fat: 0.3 g; Sodium: 73 mg; Cholesterol: 3 mg; Total carbs: 24 g; Fiber: 3 g; Sugars: 20 g; Protein: 16 g; Potassium: 107 mg
Easy 5-Ingredient Dark Chocolate Soufflés
Makes 5 servings
Prep: 20 min Cook: 12 min
Ingredients
4 large eggs

½ cup semisweet chocolate chips

¼ tsp instant coffee

1 Tbsp cocoa powder, preferably Dutch-processed

2 Tbsp granulated sugar

Additional cocoa powder or powdered sugar (optional)
Preparation
Preheat oven to 400°F. Lightly spray five 6-ounce ramekins with cooking spray and place them on a sheet pan. Separate the eggs, placing the egg whites in one large bowl and two yolks in another small bowl (toss the remaining yolks or save them for another use).
Place the chocolate chips in a small microwave-safe bowl and heat for 1 to 1½ minutes or until chips are partially melted and appear shiny. Remove and stir. Set aside. In a medium bowl, whisk together instant coffee, cocoa powder, and 3 tablespoons warm water. Whisk in the two egg yolks. Add the melted chocolate and whisk until smooth.
With an electric mixer on high speed, beat the egg whites until foamy. Gradually add sugar and beat to stiff, but not dry, peaks. Gently fold half the chocolate mixture into the egg whites, taking care not to deflate the egg whites. Repeat with the remaining chocolate mixture.
Fill the ramekins and place the pan in the oven on the center rack. Bake for 9 to 11 minutes or just until firm to the touch. Dust with cocoa powder or powdered sugar, if desired, and serve immediately.
Note: You can substitute 3 tablespoons brewed coffee for the ¼ teaspoon of instant coffee and water. You can also add ½ teaspoon of almond, vanilla, or orange extract if desired. For a more intense chocolate flavor, use bittersweet chocolate.
Nutrition Information
Serving size: 1 souffle
Per serving
Calories: 190; Total fat: 11 g; Saturated fat: 5 g; Sodium: 56 mg; Cholesterol: 149 mg; Total carbs: 20 g; Fiber: 2 g; Sugars: 16 g; Protein: 5 g; Potassium: 81 mg
CLC12681.A