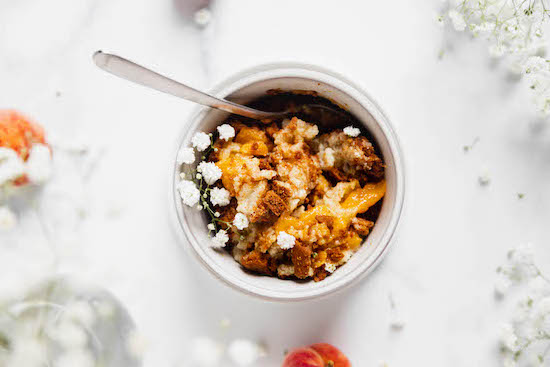 Enjoy a perfectly portioned dessert without even turning on the oven. This microwave peach crisp is a quick and easy treat made in minutes. Serve with a scoop of vanilla Greek yogurt or light whipped cream if desired.
Makes 1 serving
Prep: 6 min Cook: 2 min
Ingredients
1 cup frozen sliced peaches, thawed
½ tsp cornstarch
½ tsp lemon juice
Pinch of cinnamon
1 Tbsp quick-cooking oats
2 tsp all-purpose flour
1 tsp brown sugar
2 tsp olive oil
Preparation
Add sliced peaches to a microwave-safe mug. Add cornstarch, lemon juice and cinnamon to peaches and stir to coat. Set aside. Combine the remaining ingredients in a small bowl until crumbly. Spoon mixture on top of the peaches. Microwave on high for 1 ½ minutes, until peaches are bubbly. Carefully remove mug from the microwave.
Nutrition Information
Serving size: 1 mug
Per serving
Calories: 186; Total fat: 9g; Saturated fat: 1 g; Sodium: 2mg; Cholesterol: 0 mg; Total carbs: 25 g; Fiber: 3 g; Sugars: 14 g; Protein: 2 g; Potassium: 303mg