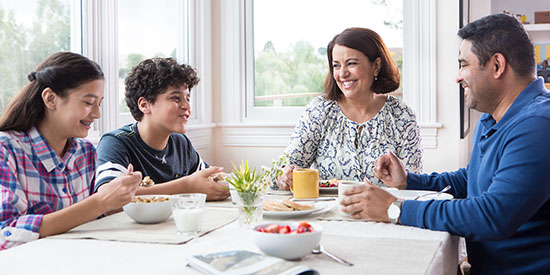 If you have diabetes, there's a good chance that you've heard lots of advice on how to eat. That can feel overwhelming! The good news: Eating for diabetes doesn't have to mean overhauling your way of eating. Here are some simple food-related steps that can help you manage diabetes.
Drink plenty of water. Early signs of dehydration (a headache, dizziness, and feeling tired) are often mistaken for hunger and can lead to unnecessary snacking. Try to drink eight to ten eight-ounce glasses of water per day.
Still hungry after a meal? Eat more non-starchy vegetables. If you find you want seconds after finishing a meal, eat more non-starchy veggies like leafy greens, broccoli, and peppers. These will have a very low effect on your blood sugar, and they contain fiber which will help you feel fuller faster.
Keep healthy, low-carb snacks on hand. Stock up on items like nuts, cut raw vegetables, fruit, and nut butter.
Plan and prepare meals in advance. Set aside time each week to wash and chop vegetables, trim and prepare proteins, and cook items like soups and casseroles for the week ahead.
Always include protein. Protein keeps you full and satisfied, builds lean muscle, and has very little impact on blood sugar. Aim for three to four ounces (about the size of your palm) of protein at each meal.
Include healthy fats with each meal. Healthy fats keep you satisfied, help decrease hunger, and may slow the absorption of sugar into your bloodstream.
Know your portion sizes. We often don't realize that we overeat because we don't know what a portion size looks like. Become familiar with common portion sizes to be sure you are eating carbohydrates, protein, and fats in the right amounts.
Check blood sugar more often. When you change what and how you eat, even if it's for the better, it is important to check blood sugar more frequently to see how these changes are affecting your blood sugar. This will help you know if what you're doing is working!
CLC13644.B